Ya ampyuuuunnnn, udah berapa tahun ya aku ninggalin blog tercinta wadah menyalurkan hobbyku iniiiihhh?? *nyapu-nyapu pojokan* Beribu maaf tiada tara aku ucapkan kepada pembaca setia Beautiful Channel, maafkan aku karena baru sekarang ini sempet posting tentang pemenang Beautiful Channel 2nd Giveaway. :( Kalau aja kemarin pas di Wates koneksi internet lancar jaya bagai di jalan tol, bisa-bisa aja sih posting pemenangnya. Tapi mau beli pulsa aja mesti nun jauh di sana, jadilah aku bagaikan ada di pedalaman Amazon, hiks. Belum lagi baru pulang Kamis minggu lalu, terus Sabtunya aku wisuda, persiapan ala kadarnya, tanpa kehadiran mama pula (mama lagi di tanah suci), jadi wisuda kemaren itu bitter sweet, rasanya manis-manis pahit. :')
Dedicated to my parents! :*
Dan setelah itu, masuklah lagi aku ke REAL WORLD, di mana tiada hari tanpa follow up pasien yang bejibun, operasi, jaga poli, dan ujian. Alamaaaaaaakkkk, baru sebulan koass rasanya udah bosen bangeeeeeetttttt!!! Pengen libuuurraaaaannnn!!! :'(
Yaps, sudah lah berkeluh kesahnya, yuk sekarang mari kita lihat saja siapa yang sudah berpartisipasi ikut join giveaway dariku. :D
Mak Sanny yang terkenal sama kepandaiannya ngolah warna-warni makeup ke wajah! Keren banget nggak sih perpaduan warnanya?? Ada yang gradasi, colorful, bahkan sampe netes-netes gitu. Great job, Mak! But, will she become the winner?? :D
Miss seksi-nya Makeupnista ikutan join juga! Ses Tintas ini menurutku punya fitur wajah eksotis yang mau dimakeupin kayak gimanapun hasil akhirnya bakal selalu SEKSI! Apakah miss Seksi bakal jadi pemenangnya?? Let's see... :D
One word: FUTURISTIK! Pertama lihat hasil karyanya Rifka ini, yang ada di pikiranku adalah seorang alien cantik yang suka dandan *agak lebay nggak sih?*. Pokoknya, kombinasi warnanya yahud banget, ungu campur pink bok! Favourite color banget! Hmm, menangin nggak yaaa? :P
Yang lain pada pake makeup buat ngewarnain bibirnya, kalo mbak Brili ini "menghias" bibirnya pake manik-manik! So innovative! Nggak nyangka ya bisa se-kreatif itu! Apakah inovasinya yang kreatif bisa mengantarkan mbak Brili jadi pemenangnya? Kasih tau nggak yaaa??? *minta ditimpuk* :P
Well, aslinya selain aku susah menyempatkan waktu buat ngeblog, aku juga bingung nentuin pemenangnya karena semua punya keunggulan masing-masing, maka dari itu baru lama kemudian baru bisa posting pengumuman pemenangnya. Padahal cuma 4 kontestan ya? Gimana kalo 400 coba?? *ah nggak usah dipikir, kenyataannya nggak gitu juga kok* Jadi, setelah dipikir dan dipertimbangkan masak-masak .......pemenang Beautiful Channel 2nd Giveaway adalaaaaaaaaahhhhhhhh..........
.
.
.
.
.
.
.
.
.
.
.
.
.
.
.
.
.
.
.
.
.
.
.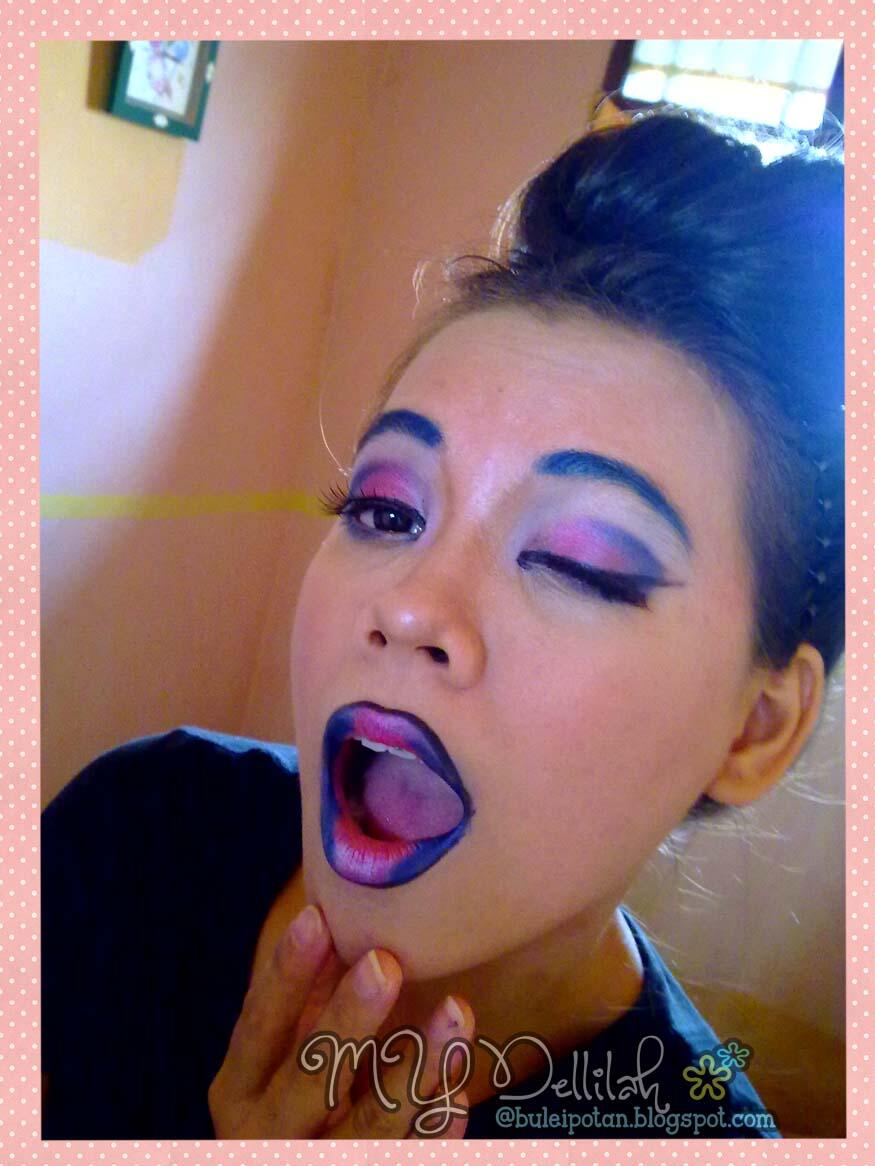 @rifkagiovani
dari
Coffee Break with My DELLilah
! Congratz ya dear! Seperti yang aku janjikan, hadiahnya berupa 3 produk makeup dari Wardah, yaitu
1 Matte Lipstick
(shade-nya as request),
1 Lip Balm,
dan
1 Wonder Shine Lip Gloss
! Selamaaaaaaatttt!!! XD
Ditunggu konfirmasinya by email dalam waktu maksimal 2 x 24 jam ya? Kalo lebih dari itu, I'm sorry, bakal didiskualifikasi dan diganti pemenangnya. :)
So, once again, congratulation! :D And sorry for the late announcement... :(
Thanks for coming beauties,
Comments and follow if you like,
Hope you all well,
and Stay beautiful with...
*kisses*